Have you always dreamed of owning and playing a harp? We can make that dream a reality whether it be a Classical pedal harp, a lever/folk or Celtic harp, or even a chromatic harp. It could be one of our custom-made harps or a readymade harp from one of our world-famous suppliers around the world. 
Our goal is to build the best sounding, well crafted harps possible.
We especially like to build custom harps and therefore look forward to making your harp dream a reality. We build harps here in Australia to a worldwide market using high quality hardware and furniture/musical grade timber (wood).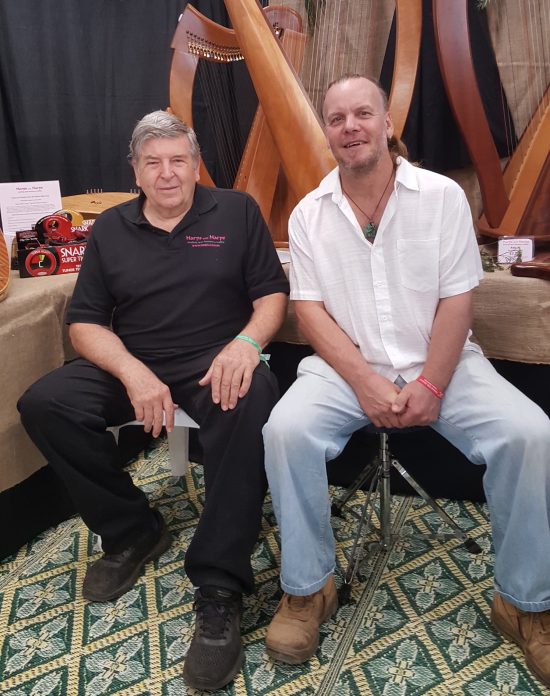 Harps and Harps are known for their fine craftsmanship and attention to detail to produce a warm resonate tone for which they well known for.
At Harps and Harps we welcome your custom harp requests as well as making a stock harp just for you to your requirements and dreams. We also offer a range of carvings and decorations as well as adding electronics from pickups to fully electric/acoustic versions and even MIDI harps. If it is your dream we can make it a reality
Our Customers speak for us
"I have no hesitation in recommending Brandden's harps as an excellent investment for any harpist and recommending Brandden himself as an excellent and caring craftsman."
View more
"I am delighted with my beautifully crafted harp. Its sound is vibrant and resonant and the balance of the strings moving from treble to bass is well graded. Combined, this makes an attractive, easily played instrument that has a rewarding sound."
"The harp is really beautiful with an absolutely beautiful, full sound. All the notes sound as if they come from the same harp, which not all harps can claim as a salient feature. I instantly fell in love with the note soundings of this harp; they are as good if not better than what I heard on the sound samples on your website. "
"This harp has surpassed my expectations and has been a joy to play. It has a magnificent tone and keeps the tuning well and is well balanced. The workmanship is of very fine quality making it a beautiful instrument both visually and to play. "
We can make your harp dreamS rEAlity​